The concept was devised by M Design Studio in the Center of Honda R & D in Japan. Honda is making progress in developing a production vehicle based on this concept model in order to be introduced into the market next year.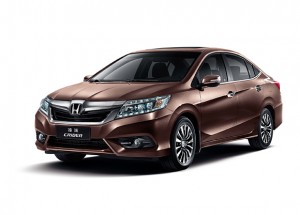 New Honda Crider
Honda also showed at the Shanghai Auto Show on Crider, middle class sedan developed for the Chinese market, which was presented at the Beijing Motor Show last year. The Crider was developed under a design concept based on an image of a dragon. This model is scheduled to go on sale in June this year.
In addition, the Shanghai Motor Show, Honda showed the JADE, a vehicle that was already presented at the Beijing Motor Show last year. The Honda Jade, named Jade stone, which bebe design. Jade was designed according to the tastes of Chinese customers born in the decade of the 80 who are energetic and known to pursue their dreams. Jade is expected to go on sale in September.
Other news from Honda
Honda announced a minor change in the Li Nian model S1. It has been renovated exterior and interior design as well as vehicle technology. New Li Nian S1 will be released in May this year. Guangqi Honda will strive to further increase sales of this vehicle, focusing more on customers inland areas of China.