The Amarok Canyon includes new design elements, as well as interior and exterior details. Its unique features provide all the practical advantages that characterize the Volkswagen models. The launch of this new model will be produced this summer, and the first units will begin arriving later this year.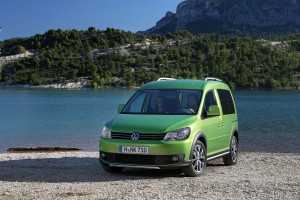 Volkswagen Cross Caddy
The new Caddy Cross, meanwhile, will have outstanding design elements and an exclusive 17 inch rims with tires 205 / 50 R 17, either as a tourist or as a version Box version. It also offers a new body color called "viper green" (green snake). In Spain Caddy Cross marketing is provided on the top engines in the second half of the year.
And since a picture is better than a thousand words, we leave the attached photo essay that has published the mark.