In manualesdemecanica.com took several weeks working very hard to install all new versions in our social network in addition to adding new functionality to the page.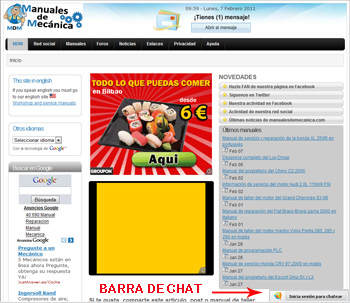 We've updated the version of the social network to a version that retains all the functionality of previous versions but is much more stable. We've added a plugin that tells you if you have completely filled out your profile or you still have things to fill in, we recommend you to complete your profile in order to get the most out of our site. The most important innovation is the installation of a new chat that you can make new friends as it allows you to talk to all the users who are online at the time.
New version also our forum now even lets you upload multiple files at once to the same post. It also has improved its design.
We have also completely "socialized" the page by adding a bar that allows you to share all of our content in more than 300 social networks and communities. Sharing our content is an excellent way to help us as the page will grow faster still, and to help those who consult in our forums, we have installed a system to automatically post the forum messages on Twitter and Facebook, in this way Your messages will reach more people in a way that makes it easier for you to get the answer you need.
If you have facebook account you recommend to link your Facebook account with our site.
Finally, as we note in our previous newsletter have been removed inactive users profiles have been deleted 100.000 some users.